Webanywhere earning its Spurs
Tottenham Hotspur FC has teamed up with Webanywhere to deliver its Tottenham Foundation education programmes to local communities, creating life changing opportunities for children, groups and individuals through sport.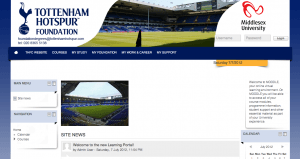 The Foundation has worked with Webanywhere to develop a new online learning experience platform, which will provide even more opportunities for children to access interactive learning.
The work of the Foundation is delivered to local schools and college through a range of partners from central and local government.  Activities are based on a belief that engagement through sport can stretch beyond to harness a sense of mutual respect and trust, widening horizons, raising aspirations and providing new opportunities to young people regardless of race, sex or age.
Established five years ago, the Tottenham Foundation is  a Registered Charity and is backed by significant investment from Tottenham Hotspur Football Club.  The Foundation has created over 1.5 million life changing opportunities within local London Boroughs and has also undertaken various overseas projects including work in South Africa, Sri Lanka and China. To learn more about the Foundation's great work, click here.