Top 5 Tips, Implementing Mobile Learning
When implementing your mLearning strategy it's important to identify the challenges you might have. Below are the top 5 our experts have put together.
1. Interoperability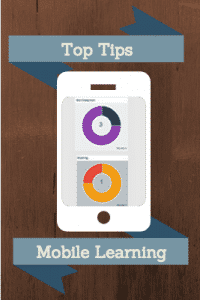 You will need to think about the connections between PC/ laptop and the mobile devices being used. For example, what software are they running, which browsers are being used?

2. Interactivity
Now that your learners will be accessing eLearning through their mobile phones, you must remember that mobile has less interactivity.
3. Content Design
This is essential to the user experience, if the content is designed badly, learners will immediately switch off. Think about all the different options, mobile, tablet, laptops of varying sizes…think responsive.
4. Form Factor
Mobile devices come with all different types of configuration, this means they may not stream your content in the most optimal way. Firstly knowing which devices your learners are using and secondly testing them is critical.
5. Learning Management System Support
If your LMS doesn't provide mLearning support then this isn't going to work! Think carefully about how your LMS is innovating in this area.
If you are interested to learn more about mLearning you can watch a video by clicking here