If you visited us at Learning Technologies a few weeks ago, you might have seen our new sales-enablement platform Promatum in action. It's a fantastic new tool letting you add structure, support and tracking to your employees' informal learning.
It's designed to complement your existing LMS, picking up when it comes to on-the-job training. There's some things a traditional LMS just can't do, requiring a more blended approach – Promatum is the ideal tool to track this extra learning.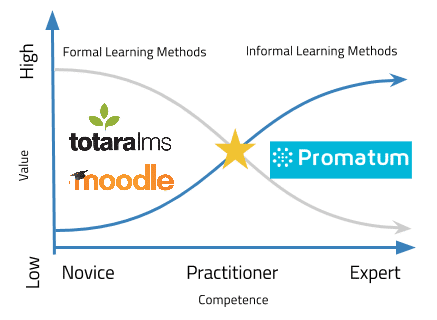 All activity, both by you and your learners, is tracked using tools that can be quickly and easily integrated with xAPI (for example "Jon read an article", "Michael completed a quiz and received 90%", "Jane attended a seminar"). Team leaders can access this within the system.
Promatum also includes robust content-creation tools based on H5P, allowing you to quickly and easily create rich, detailed content with advanced tracking features. Your own existing content can also be uploaded to it.
The whole thing is fully mobile-responsive, enabling and promoting on-the-go learning, whether that be an office-worker checking on their tablet in some downtime or a field-worker checking for more information from their phone. You can extend it as necessary to anyone in your supply chain who needs it, and even provide learning materials to the public if necessary.
Promatum makes it easy to create, share and track learning resources, and it's been designed from the ground-up with some of the largest company's in the world.
You can find out more and get a free demo at promatum.com.
Now here's a free guide on sales-enablement
We're giving this to you now, so just click here to download your free copy.
Want to know more?
If you want to take a closer look at Promatum, come along to our head office on Thursday 17th March.
It's an ideal chance to meet our team of elearning experts and ask about anything you'd like to know. We'll be putting on some free drinks and nibbles, so if you're in the area it's a great opportunity to find out more.