Totara LMS – Reviewed by Learning Light
David Patterson, director of the e-learning consultancy company Learning Light, recently visited our offices and we were able to borrow him for long enough to offer an expert opinion of the Learning Management System, Totara LMS.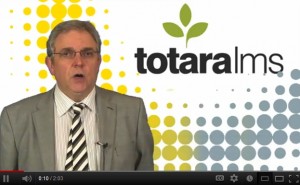 David agrees with us that Totara is going to be a game changer in the corporate LMS market and begins by explaining why, in his view, Totara is so interesting and exciting.
He points out Totara's heritage, with the platform emerging from New Zealand and much of the work having being done by the developers behind Mahara, a leading open source e-portfolio.
He notes that essentially, Totara was built on the hugely successful open source VLE, which is used predominantly in the education sector at schools and colleges. While Totara has all of the benefits of a standard LMS platform, it is also customised to meet the specific needs of business users.
David finishes the review by noting that with its global Partner distribution model, Totara LMS is a valuable new entrant to the LMS market and worthy of serious consideration by corporate users.